You have an incident and you need to collect evidence for a potential civil or cirminal action. What is this all about?
In simple terms, digital forensics is the technological, systematic inspection of devices of an electronic nature. This could be examining a computer on a network for evidence of questionable computer usage, sometimes of a criminal nature. This evidence could be part of an ongoing investigation of a person or persons that we, as licensed professional investigators, would be conducting. In this day and age we can conduct such evidence gathering in Canada, the U.S., and around the world.
Digital forensics could relate to a civil matter where electronic documents or data must be acquired by a forensics expert who has been brought in to ensure that data is the electronic equivalent of the original; or an employer needing to properly document the activities of a wayward employee before a termination is issued, usually to avoid the chance of a wrongful dismissal suit.
Fraud is also an area where digital forensics may come into play. Digital forensics is often related to the detection and monitoring of malware that may have been put in place by an employee, organized crime or a state sponsored intelligence agency. Or perhaps we are asked to examine the policies and processes that created the opportunity for fraud.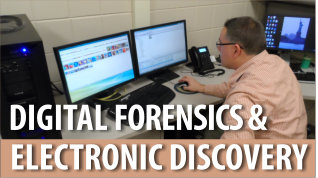 This is generally done for the express purpose of intellectual property theft or financial fraud. Detecting, determining the source and the purpose of this hacker type threat is what we do.
Industrial espionage is all too common within companies whose intellectual property is worth in the millions of dollars. Counter industrial espionage is what we do – including forensic bug sweeps.
It's not the computer or the network that commits the crime but the person or persons controlling it. It takes a special kind of licensed private investigative firm to be able to mix digital forensics in with real world people investigations. We are that kind of firm.
AMULETA™ provides digital forensics and e-discovery services including executing court ordered search and seizure (Anton Piller) orders.